In 1991 I bought The Advancing Guitarist by Mick Goodrick. I purchased lots of instructional books at that time. Matter of fact, I was obsessed with instructional material. VHS tapes, books, music magazines… anything to help me get to grips with the mysteries of music.
The book puzzled me.
What do I mean?
All of my other instructional books presented some sort of solution. They provided a method, a certain way of doing things. Do this exercise and you'll become the fastest guitarist in the known universe. Learn this chord voicing and Miles Davis will call you to join his band.
More Questions than Answers
In "The Advancing Guitarist" there seemed to be more questions than answers. It made me quite irritated at first. Why spend my money and then still have to deal with all those questions about music? Even worse, more questions after reading through the book because it raised certain issues I wasn't even aware of before.
What note will I play next?
Will it be a short or long note?
Loud or soft?
When will I play it?
Will it be followed by other notes?
What kind of tone quality will it have?
What am I trying to convey by this note?
Is what I'm going to play similar to or different from what I've just played?
Am I going somewhere with this note or am I arriving from somewhere with this note, or is it just there by itself?

Mick Goodrick, The Advancing Guitarist, p99
Was I really supposed to answer those questions by myself?
Throw in a quote like:
Explore counterpoint and harmonic material from all above modes and scales for at least 20 years.

Mick Goodrick, The Advancing Guitarist, p37
Not exactly what an impatient beginner eager to master the guitar wants to hear.
Now, all those years later I simply have to smile because I know that 20 years of exploring counterpoint and harmony only let you realize you are scratching the surface of the surface.
But don't get me wrong…
Mick doesn't just ask questions or throw out somewhat flippant suggestions in his book.
A ton of information is packed into the 120 pages. More than enough to keep you busy for a lifetime.
The book starts with an in-depth look at a horizontal playing approach, moving up and down individual strings at first, before combining them into what Goodrick calls "mini-positions." This is nicely tied in with a study of intervals and modes, including melodic and harmonic minor modes.
Next are triads, 7th chords, quartal harmony, voicings, slash chords, etc…
As I said, enough material to keep you busy for a really long time.
This is not a book for an absolute beginner, although it would put you on a great path. The lack of tablature might make it difficult to apply the material directly to the instrument and large parts of the book might be way over your head, at first.
So if you expect a quick-fix or a miracle, this ain't the book for you. If you are willing to put in some elbow grease and work with the material over a longer period of time, you'll see tremendous results.
My Personal Ritual With The Advancing Guitarist
Personally, I've almost created something of a ritual for myself.
The Advancing Guitarist is a book full of wisdom that does not force anything upon you. It does not try to convert you to a certain view or push some special playing technique or gimmick.
At least once a year I pull out the book and skim through it. There's always something that grabs my attention and I start working on that topic. Something that I simply did not catch, or was unable to comprehend the last time. In a way, it's like a completely new book that's releasing information to me as my musicality grows and I become ready to finally absorb it.
The Advancing Guitarist is a book full of wisdom that does not force anything upon you. It does not try to convert you to a certain view or push some special playing technique or gimmick.
It's deep material for any guitarist willing to explore and experiment. The answers you'll find will be your own and as a result more meaningful to you. You'll always get exactly what you are ready for.
The Hair in the Soup
After reading so far you already know how positively I'm biased towards this book. Just have a look at the title of this site to confirm that suspicion. 😉
But there are 2 upgrades I think this book would deserve.
1) Visual enhancements
The "look" of the material is somewhat dry and too serious. A visual overhaul would spruce up the feel of the book and make it a tad more friendly. I'm not talking about adding a bunch of stupid pictures of great guitar players as is common in so many books to fill some pages. It's just that re-grouping some of the information into smaller chunks and adding visually appealing tables would increase the impact even more.
2) A CD with sound examples
Granted, it's not a "99 Essential Blues Licks" type of book, so it's not as obvious to record an accompanying CD. But all the topics like slash chords, progression cycles, vamps, fragments and permutations could really benefit from some demo tracks with the material in use.
The Final Verdict About The Advancing Guitarist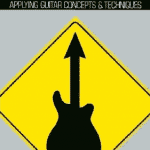 bintangempatkoma
Essential Reading
Extra Material (CD, etc...)
This book will not keep you busy for the sake of being busy. Due to the almost philosophical approach it will force you to develop your own way of working with the material. It's deep stuff, but well worth the effort.
If you are a guitarist, then you absolutely need this book in your library.
Period.
No matter what style you are into, or who you are influenced by, it simply doesn't matter. It's choke-full of concepts for you to explore. Just don't expect any licks.
Even if you play another instrument you should at least check it out. Since you'll have to adapt the material that's presented for guitar to your own instrument, this might even deepen the realizations you'll have about music in general.
The following link is an affiliate link so I'll get a small commission when you buy from Amazon. I would have recommended this book to you even without getting any money at all. It's that good. But as small as the amount might be, it helps offset the costs of running this site – so thanks in advance for your support.
Buy The Advancing Guitarist from Amazon
Your Input
Also, please leave a comment if you've read the book.
What kind of impact did it have?
What did you learn from it?
Any other instructional books that you consider really important for any
serious musician?